"Oh yea, of course, I did learn Dutch", a friend told me once. I was in awe of him that he learnt it in a short time with no teacher, however, to be disappointed to know it later that he "mastered" till Level 5 on Duo Lingo. This accomplishment includes learning what to call dog, cat, chicken, newspaper, bread, eggs, milk, cheese, cows, and few other daily living and non-living things, in Dutch.
Before I came to the Netherlands, I started practising the basics of Dutch on DuoLingo and Mondley. Both are well-used apps that can give a beginner a necessary push to start with. I made sure that I learnt certain important words and short sentences.
Hoi. Hallo. goede morgen.  bedankt. Dank je well. Alsjublieft. Tot ziens.
Ik ben Vamsi van India.
Ik ben Masterstudent aan de TU Delft.
Ik woon in Den Haag bij the HS station.
Apart from these, the most important sentence, that I learnt was this, "Sorry, maar ik niet spreekt Nederlands!"
Of course you have to tell people that you don't know their language. While I'm glad I moved past those few short sentences, unfortunately, the progress I made is an addition of some more short sentences only, along with few words and with an accent! Nothing beyond this. This wasn't the plan, since I intended to learn Dutch at the university where the Dutch language course of 6 credits is disguised as 3 credits and awaits to be read, spoken, written, enjoyed and learnt! (as told to me by almost everyone who took the course as being very heavy for the 3 credits it offers!)
That being spoken, about my progress, to those who are still in a dilemma if they should learn the language or not, I do have some suggestions.
Many international students, apart from other Europeans, come here for an extended stay after their Masters, work, earn some experience and go back to their home country, while some stay back. To these students, I would definitely suggest to learn the language. You may have heard before coming to the Netherlands that the Dutch speak good English and so language isn't a problem, unlike, say, Germany. While this is almost true, it can only hold good for tourists. If you intend to live here, study and work for some time, learning the local language is quite importance. You not only discover a new social life ahead, but also feel closer to the community you live in, with.
Apart from this, there are many art, music, technology events, professional and social networking activities which happen all the time where you may feel left out if you do not speak the language of the land. Trust me, I speak from experience. Also, there were so many things that I wanted to, that I could've done, had I known Nederlands!
While your Dutch colleagues or friends around you, can only be around for a while, you cannot expect them to speak in English all the time even with their other social circles around. Not only are you depriving them of their comfort but you're missing out on new possibilities that can unlock if you know the language. Many of them are really helpful and may help you begin with a few words and short sentences, you need to move on and take the responsibility of learning.
Another important area where it can be of help is finding a job! Knowing the language well can open up your profile to a lot more recruiters!
The other category of students, the Europeans, learn Nederlands to add to your list of languages known and of course, you do get all the benefits that I mentioned above!
Apart from these reasons, learning a new language is always fun. Sure, it may not be easy to do so, in the beginning, but hey, what is?
Sitting at home and watching Netflix? Ja Tuurlijk.
Waar kan ik Nederlands leren ?
Taught at the Universiteit (WM1115TU)
Basics can be learnt over apps like Duo Lingo, Busuu, Mondley
Michel Thomas method of learning Dutch. (MT Method has almost all the major European languages; very effective method to learn, that I used)
Other online methods . (MOOC, Youtube, LearnDutch (also has a youtube channel with same name), 2B Dutch, and many more!)
Whatever the method, commitment is important!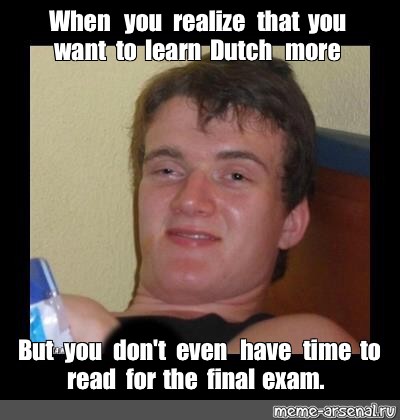 Time is a constraint? You don't have to learn Dutch to the extent of becoming a teacher in it. Well, you may, if you want to. But do learn atleast to the extent of being able to hold brief conversations, understand what's going around in social and professional situations, read the headlines in the news and gossip around with your Dutch friends.
I cannot think of situations where I wished I didn't know what's happening around where people were chatting away and you're stuck with trying to open google translate!
[PS. Thank you to all those friends and colleagues who helped me out during my tough times dealing with Dutch!]
Namaste.
Zee.